Service & Giving Back to the Community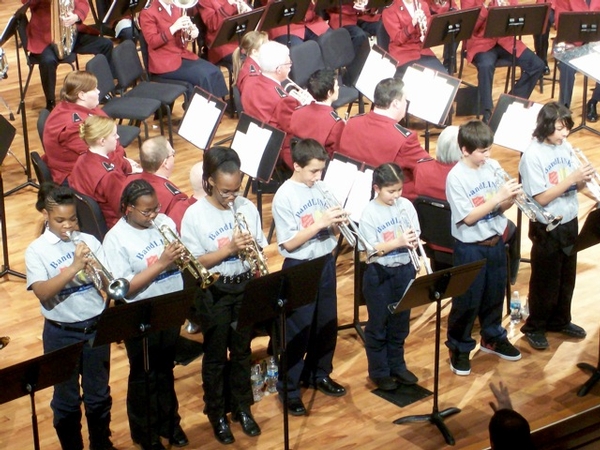 Bandlink Students Perform at the Notre Dame Performing Arts Center
Bandlink is an outreach program of the Notre Dame Band that offers music and band instruction to local schools which may not have the means to offer the programs. Currently the program is open to students in grades 5-8 at Christ the King, Holy Cross, and Corpus Christi Schools. Students in the Michiana Christian Homeschool Band are also eligible to participate.
Notre Dame students are responsible for all administrative and instructional aspects of the program and are supervised by a member of the ND Band Staff. The program offers students weekly private instruction on their instrument as well as large ensembles for them to participate.
For more information,
click here
or visit the
Bandlink Blog
.
Salvation Army Bandlink
In January of 2009, the Notre Dame Band expanded the Bandlink program and teamed with the Salvation Army of St. Joseph County to provide a unique opportunity for underprivileged children in the South Bend community. As volunteers in the Salvation Army Bandlink, Notre Dame students mentor these local children by giving them band lessons. The program provides a place for young students learn self-discipline, teamwork, self-expression, self-esteem, and reinforce values while playing in a band.
The Salvation Army Bandlink program is held in Kroc Community Center. The eight-and-a-half acre site has several music facilities including classrooms and an auditorium.
For more information about the Salvation Army BandLink Service program, please
click here
to contact us.
Horns Reborn
Horns Reborn is a outreach program of the Notre Dame Band. The Band accepts donations of used instruments, then reconditions and distributes them to music programs with students who may not have the means to learn instrumental music.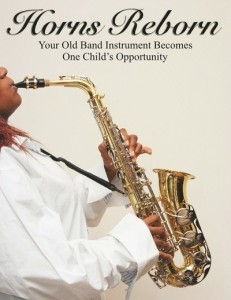 How do I donate an instrument?
Instruments can be donated either in person or by mail. Instruments can be shipped to the following address:
Horns Reborn
University of Notre Dame Band
100 Ricci Band Rehearsal Hall
Notre Dame, IN 46556
Upon receiving your instrument, the band office will send you a letter acknowledging the receipt of your instrument and will begin the process of placing the instrument in the hands of a child. If you would like to drop off an instrument, you can find a map to the Ricci Band Rehearsal Hall on the Band's
contact us
page.
I don't have an instrument to donate. How can I help?
If you would like to contribute to the program, but do not have an instrument to donate, please consider participating in the Notre Dame Band's
sponsor an instrument
program. This program allows you to donate funds for the purchase of a new instrument to be used in the Notre Dame Band. The new instrument will replace an older one in the band's inventory, which will then be donated to the program. This option is a tremendous way to both support the Notre Dame Band and participate in the Horns Reborn program.
Where do the instruments go after being donated?
There are a variety of programs that will receive the donated instruments. In addition to helping schools that lack instrumental music funding, the band has partnered with the Salvation Army's Bandlink Program at the
Kroc Center
on the west side of South Bend. Some instruments will go to support the St. Patrick's Foundation All Star Marching Band in Kingston, Jamaica. This program is an outreach program through a Catholic community center providing youth in the most poverty-stricken areas of Kingston with a musical outlet.
How will these instruments help?
Participating in music can have a powerful effect on young people. Learning an instrument can teach self-discipline, teamwork, self-expression, build self-esteem and reinforce values taught in the school curriculum. Unfortunately, children in poor communities often can not afford to purchase or rent an instrument in order to participate in instrumental music groups. Your donated instrument can serve as a gateway for children to become involved in positive activities that teach skills which will help guide them towards future success.
More Information
For more information please
click here
to contact us or call at (574)631-7136.
Back to Top