Supporting the Notre Dame Band
Sponsor an Instrument Program


A plaque will be attached to all sponsored instruments with the donor name listed

Those who are looking for a way to help out the Band in an immediate and tangible way may consider sponsoring an instrument. This donation will fund the purchase of a new instrument for the band. The instrument's case will have a permanent brass plate attached with the name of the donor.
Parents can purchase an instrument which can be used by their son or daughter during the years they play in the Band.
All donations will go through the Development Office's O'Brien Fund, thus providing the same tax advantages and football ticket privileges as any other contribution to the University's Annual Fund.
The cost to sponsor an instrument varies by instrument. You can sponsor an instrument today through the Band's
webstore
!
We are deeply grateful to those supporting the ND Band who make so much possible through their generosity.  
Marching Band Travel

(Member schools of the Atlantic Coast Conference.)

Sponsor Travel for the Notre Dame Band!

Starting with the 2014-15 season, the Irish will face opponents from the Atlantic Coast Conference. Your gift to the O'Brien Travel Fund will help support future Marching Band travel to away ACC Football Games! There are four levels of sponsorship:

Green - $100

Silver - $250

Gold - $500

Diamond - $1,000

As with all donations to the Notre Dame Band, your contribution will afford you the same football ticket and tax benefits as other contributions to the University's Annual Fund.

Click HERE to help get the Notre Dame Band to an ACC away game!

Sponsor A Uniform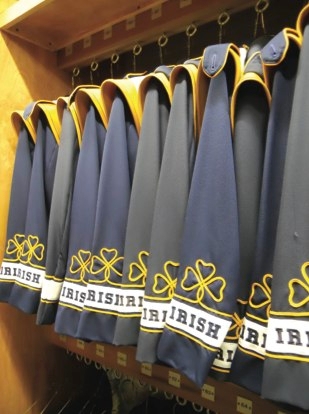 OLD UNIFORMS: In addition to color differences, the band's oldest uniforms are frayed and worn.
For a $250 donation, alumni, parents, and friends of the band can sponsor a new marching band uniform and keep the Band of the Fighting Irish looking its best.
Sponsor's names are engraved on a plaque that is displayed at the Band Building.
To sponsor one or more uniforms, visit the
Webstore
or contact the band office for details.
THANK YOU to everyone who has generously sponsored a uniform!
Drum Major Uniform Sponsorship
| | |
| --- | --- |
| You can also sponsor a uniform worn by one of the ND Band's Drum Majors. These uniforms are worn at each game by one of the Band's three drum majors. These talented student-leaders conduct the band on the field and lead the band as they march throughout the Notre Dame campus. The cost to sponsor one of these uniforms is $500. | |

Instrument Sponsorship Costs
Marching Band Instruments
(

*

denotes areas of specific need)
Trumpet – $450
Trombone – $450
Falto/Mellophone – $500
*
Marching Baritone – $1,000
*
Tenor Saxophone – $1,000
Alto Saxophone – $850
Sousaphone – $3,500
*
Clarinet – $400
Piccolo – $400
Concert Band Instruments
Flute – $400
Oboe – $1,250
Bass Clarinet – $1,500
Bassoon – $2,500
Baritone Saxophone – $3,500
French Horn – $2,000
Euphonium – $2,000
Tuba – $3,500
Timpani – $1,800
Vibraphone/Marimba – $2,500
Cymbals – $200
Snare Drum – $500
Drum Set – $750
String Bass – $1,000

BandLink and Service Project Marching Percussion
The Notre Dame Band is committed to providing service to our surrounding South Bend community through the Salvation Army BandLink program. Members of the Band serve as mentors and music educators to students from around the city, teaching musical concepts along with life lessons.

In addition, the Band of the Fighting Irish seeks out service projects across the country during academic breaks and trips for athletic events. Our drums are the most taxed instruments used for these service opportunities, and therefore need replacement on a more consistent basis. Please consider making a gift of marching percussion to assist us in our service endeavors!

Marching Band Snare Drum - $450
Marching Band Bass Drum - $500
Marching Band Quad Toms - $750
For more information about Supporting the Notre Dame Band,
click here
!