2023 CJF Clinicians
Notre Dame is proud to welcome a world-renowned group of jazz musicians as guest judges each year. Below are the bios for the distinguished panel of clinicians for the 2023 Collegiate Jazz Festival at the University of Notre Dame.
Julius Tolentino
Jimmy Greene
Jason Anderson
Adam Rapa
Andre Hayward
Julius Tolentino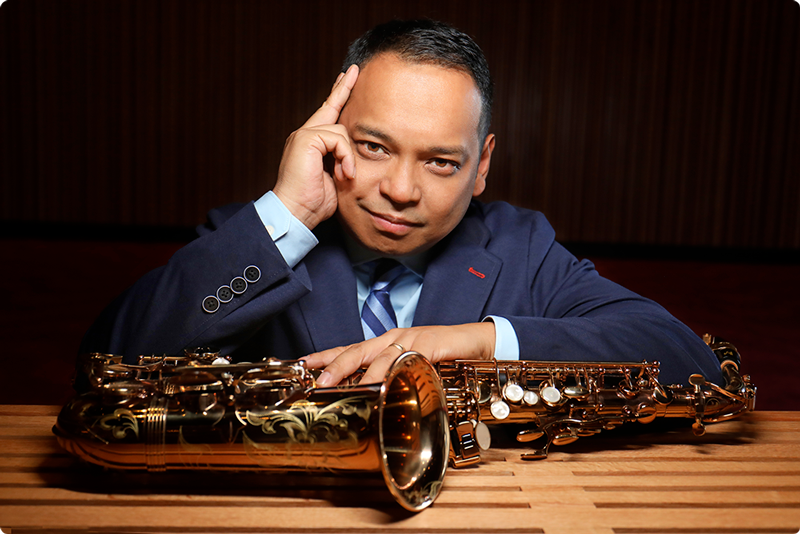 Saxophonist and educator Julius Tolentino has been a staple of the New York jazz scene for over 20 years. In this capacity, he has played and recorded with numerous small groups and big bands including Louis Haye's Cannonball Adderley Legacy Band and the Louis Hayes Quartet, Eric Reed's Sextet, Jeremy Pelt's Quintet, Natalie Cole, Wycliffe Gordon, Connie Francis, Gloria Gaynor, the Illinois Jacquet Big Band, the Christian McBride Big Band, Cecile Mclorin, Michael Feinstein, Dianne Reeves, Jimmy Heath, the Count Basie Orchestra and the Duke Ellington Orchestra.

A graduate of the Hartt School of Music, Julius studied with NEA Jazz Master and alto saxophone legend Jackie McLean, who introduced him to his second musical father, Illinois Jacquet. He has played in top jazz venues and festivals throughout the United States, including Lincoln Center, the Newport Jazz Festival, Tanglewood, the Village Vanguard, Birdland, Blue Note, the Jazz Standard and Dizzy's Coca Cola. As a leader, his debut album, "Just the Beginning," on the Sharp Nine label, reached No. 8 on the jazz charts in 2006.
Renowned as a gifted music educator, "Mr. T" has worked with hundreds of students nationwide. He joined Newark Academy in Livingston, New Jersey, as jazz director in 2007, and currently conducts five nationally known student ensembles. He also holds positions at the New Jersey Youth Symphony as director of the NJYS Jazz Orchestra, and Jazz at Lincoln Center as a middle school jazz academy director as well as a JALC traveling clinician.
---
Jimmy Greene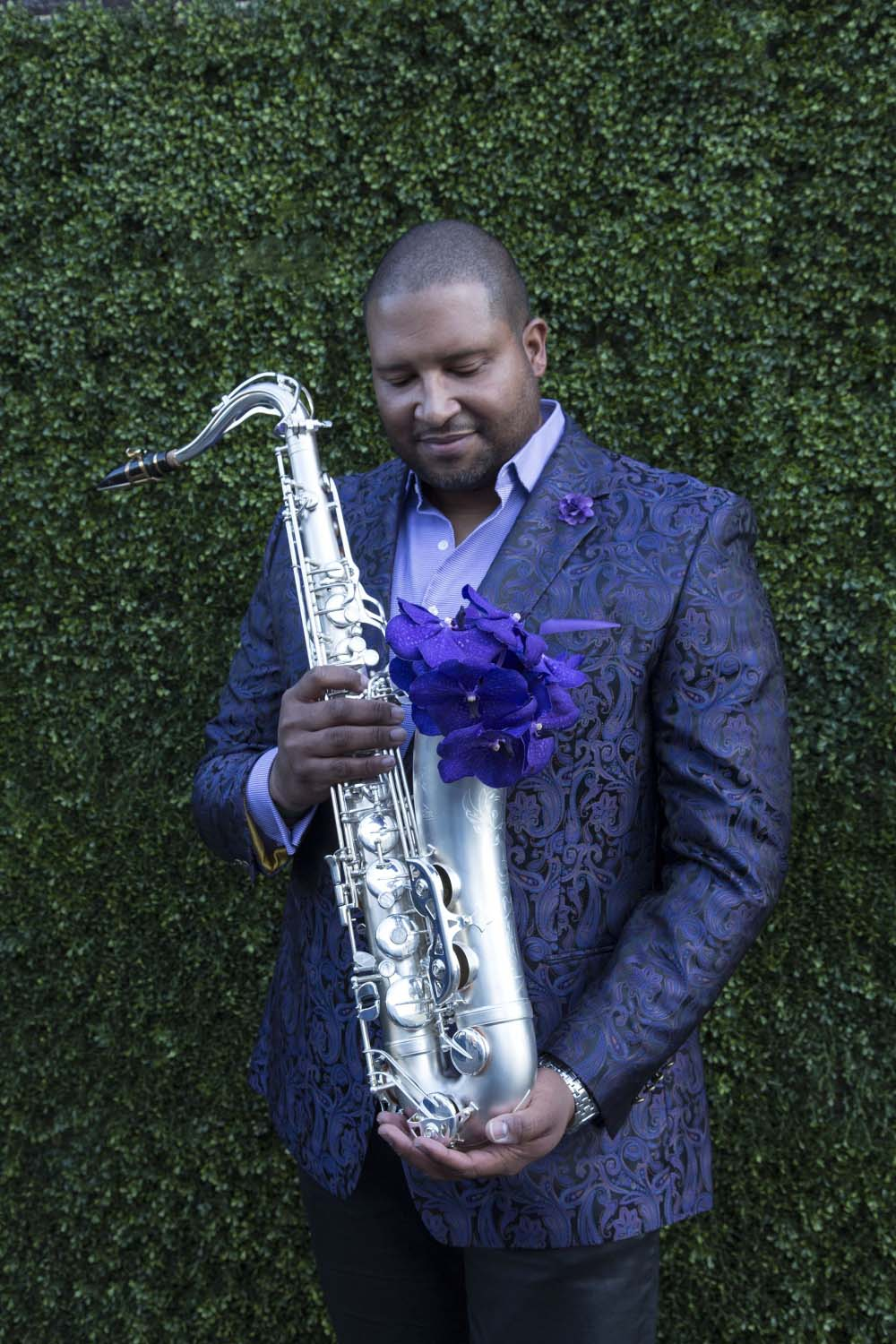 A native of Connecticut, Greene is considered one of the most respected saxophonists of his generation. His previous solo releases, Flowers: Beautiful Life Vol. 2 (Mack Avenue), the GRAMMY®-nominated Beautiful Life (Mack Avenue), Live at Smalls (SmallsLive), Mission Statement (RazDaz/Sunnyside), The Overcomers Suite (NuJazz), Gifts and Givers (Criss Cross), True Life Stories (Criss Cross), Forever (Criss Cross), Brand New World (RCA Victor) and Introducing Jimmy Greene (Criss Cross) have been met with much critical acclaim. In fact, Tony Hall of Jazzwise Magazine (UK) calls Greene " . . . . without doubt one of the most striking young tenors of recent years."

Greene's television performances in support of his recordings have included spots on The Tonight Show starring Jimmy Fallon (NBC-TV), CBS This Morning and The Meredith Vieira Show (Nationally Syndicated). Greene has also performed and presented in churches, faith-based conferences, mental health conferences and arts symposiums throughout the United States and Canada.

In addition to his recordings and appearances as a leader, Greene appears on over 75 albums as a sideman, and has toured and/or recorded with Horace Silver, Ron Carter, Tom Harrell, Freddie Hubbard, Harry Connick, Jr., Avishai Cohen, Kenny Barron, Lewis Nash, Dee Dee Bridgewater, the New Jazz Composers Octet and the Carnegie Hall Jazz Band, among many others.
---
Jason Anderson the Director of Jazz Studies at the Osceola County School for the Arts in Kissimmee, FL. Originally from Portland, Oregon, he was awarded a full- tuition scholarship to attend Berklee College of Music in Boston where he studied with legendary saxophonists Bill Pierce, Andy McGhee, George Garzone, and master technician Joe Viola. After college, Jason was selected by the U.S. State Department to perform as a Jazz Ambassador to North & West Africa in an effort to promote the furthering and awareness of the tradition that is "Jazz". He has spent time touring with the Tommy Dorsey Orchestra and the Illinois Jacquet Big Band as well as performing with many well-known artists such as: Natalie Cole, Christian McBride, Roy Hargrove, Nicholas Payton, Elliot Mason and Cyrus Chestnut.

In addition to his performance credits, Jason is also an in-demand arranger, most notably composing the Big-Band arrangement for Christina Aguilera's 2015 NBA All-Star Performance. Throughout his time as a performer and arranger, Jason has been an avid educator. Besides teaching privately for over fifteen years, he taught within the Newark Academy Jazz Program in Livingston, NJ, and the NJ Youth Symphony Jazz Program. Jason and his family moved down to Orlando in 2020 mid-pandemic. He was hired as the Jazz Director at OCSA in August 2021, and within his first year at the school, his top Jazz band placed 1st in the 2022 Essentially Ellington competition in New York City.
Back to Top
---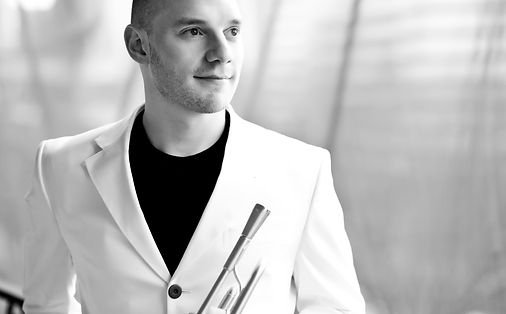 Adam Rapa is a dynamic performer, composer, producer and educator widely known for the mastery, versatility & excitement he brings to stages, studios and classrooms around the world.
Rapa was born and raised in Boston, Massachusetts. He began studying the trumpet at 11 years old, playing professionally at age 13 and was playing lead trumpet in many of the big bands at Berklee College of Music by age 16.
By the age of 18, with an already thriving freelance career, he'd had appeared in many Jazz festivals around the country and played at every major Jazz club in Boston and many in New York, including the Blue Note.
From 2001 to 2007, Rapa starred in the Tony and Emmy Award winning Broadway show, "Blast!" and several other productions by the same company, performing over 2000 shows across North America, Japan and the U.K. Since then he has composed and co-produced several brass theater productions in Japan.
His first solo album, "Life on the Road" received critical acclaim for its vast musical diversity, virtuosity and soul.
And his second album, "Rebelión" (with Zoltan Kiss, of Mnozil Brass) gave the brass world a unique and unparalleled fusion of Classical, Jazz and Tango sensibilities.
In his newest album, "Live in Argentina", Rapa explores the more intimate side of Latin Jazz in a program rich with poetry and emotional vulnerability, where phenomenal mastery is grounded in tranquillity and romance.
---
Andre Hayward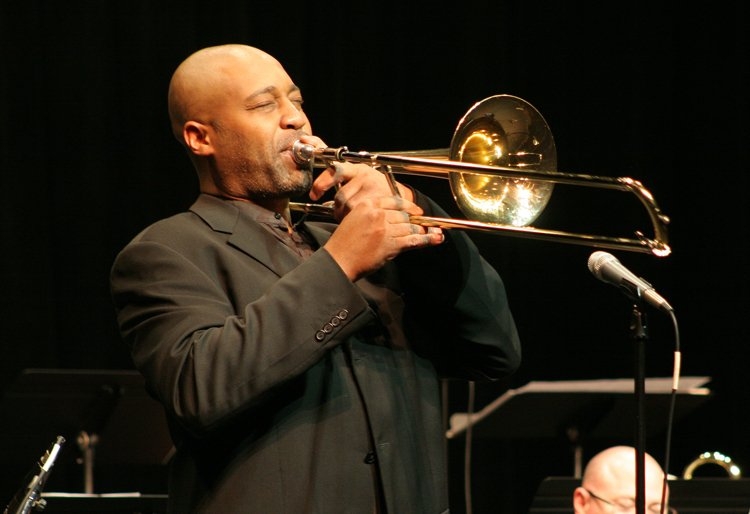 Andre Hayward is an extremely gifted trombonist with the sound and clarity reminiscent of the late J.J. Johnson. His gospel-tinged approach is refreshing and will warm the hearts of anyone he comes in contact with.
He landed his first engagement with trumpeter Roy Hargrove for a European tour after being heard at a jam session during a festival while playing with the Texas Southern University Jazz Ensemble. After Hargrove, Hayward performed and recorded with singer/bandleader Betty Carter for five years in her acclaimed "Jazz Ahead"program. Other acclaimed performers include Joe Williams, Slide Hampton, John Lewis, Mingus Dynasty Big Band, Gerald Wilson, Kirk Whalum,Jimmy Heath, The Duke Ellington Orchestra and Illinois Jacquet's Big Band. His most recent performance credits are The Jazz at Lincoln Center Orchestra, The San Francisco Jazz Collective, and The Clayton - Hamilton Jazz Orchestra.
In 2003, he received first place and a $20,000 scholarship at the International Thelonious Monk Trombone Competition in Washington,DC. Hayward is also an educator who has conducted numerous clinics and workshops in various parts of the US and overseas.
Hayward has served as jazz trombone professor at New School of Jazz & Contemporary Music, New York University, New England Conservatory, Michigan State University, University of Texas - Butler School of Music, and University of North Texas.