About the ND Band
The Notre Dame Band is an integral part of campus life. Each year over 500 student musicians participate in the three concert bands, three jazz bands, section ensembles, varsity bands, and most notably the Band of the Fighting Irish, the University's marching band.
Over the course of a school year the band will perform numerous concerts, provide music for liturgies and masses, perform at Men's Basketball, Women's Basketball, and Ice Hockey games, and plays the greatest of all fight songs, the Notre Dame Victory March, as the Irish football team competes each fall.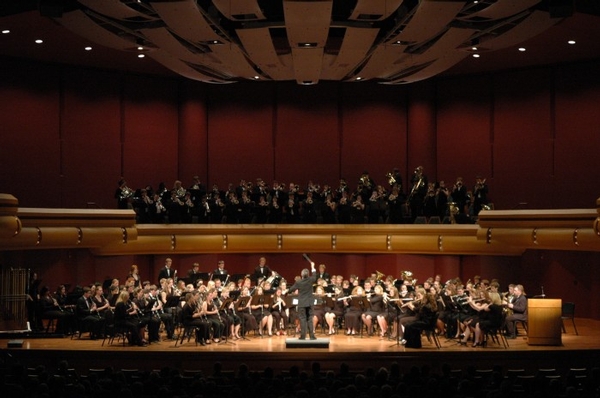 Notre Dame Concert Band performs in the DeBartolo Performing Arts Center

The band has performed throughout the world and across the United States. The marching band has performed at the Fiesta Bowl, Sugar Bowl, Gator Bowl, and the National Championship, plus performing at away games including trips to Michigan, Michigan State, Tennessee, Florida State, and USC. In addition to the home performances, the band has performed at Notre Dame's "neutral site home games" in San Antonio, New York City, Washington DC, Chicago, and Dallas. The concert band has toured internationally to Australia, New Zealand, Austria, Czech Republic, Scandanavia, Japan, Brazil, and China, including such notable venues as the Sydney Opera House, Beijing Concert Hall, and world-famous Carnegie Hall.
Membership in the band is open to all current students and graduate students at
Notre Dame, Saint Mary's College, and Holy Cross College
.
To learn more about the ND Band,
click here
!